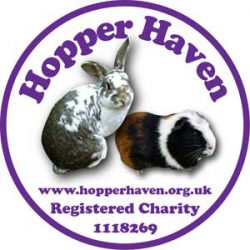 Here are just some of the ways you can help Hopper Haven help needy rabbits and guinea pigs.
Volunteer
Come along to the sanctuary on a Tuesday or Saturday between 10am and 3pm and get stuck in mucking out, filling water bottles, sweeping etc. Volunteers need to be over 18 and able to work independently.
Fundraise
It costs roughly £50 a day to keep Hopper Haven running, so we are in constant need of funds. Come along and help with one of our fundraisers or do one of your own for us. Contact Caroline via our facebook page to volunteer to fund raise.
Donate
Send us a donation towards our running costs. Cheques should be made payable to Hopper Haven. Or use our bank details which can be found on the sponsorship form to donate through online banking.
Donate Vegetables or Fruit or Picked Dandelions and grass
Help keep our critters happy by bringing us fresh fruit or veg you find on sale or can scrounge from your local shop, orchard or allotment. Or that you can forage from a clean area. Any offerings can be left in the porch or by the conservatory or brought around to the back gate on a Saturday between 11am and 3pm if you would like to meet the recipients.
Sponsorship
This is our main source of funding. It costs approx £10 a month to feed, bed and care for each animal in our care. If you sponsor an animal in full or in part you can visit them on Saturdays during our normal opening hours, between 11am and 3pm. Sponsorship can be done by monthly standing order into our bank account, or by giving us a lump sum to cover a specific time period. If you are willing to support us this way download our sponsorship form. You can use the bank information on it to donate via online banking or fill in the standing order mandate to give to your bank. If you are considering sponsoring you can visit us on a Saturday between noon and 3pm to choose an animal to sponsor and to see what we do.
Gift Aid – if you give or have given us a donation and are a tax payer please make sure to give us a gift aid form so we can claim back the tax.
This page is a work in progress.