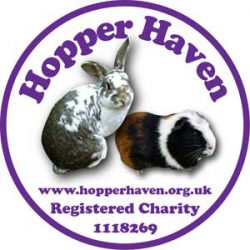 Hopper Haven is an animal welfare charity specialising in rabbits and guinea pigs. We are a registered charity located in Redditch, Worcestershire in the UK. We opened in 2006.
We provide a safe haven for the animals in our care to live out their lives in as natural a way as possible in the Sanctuary Garden. We do not rehome from here. Once here the animals are home, forever.
We have places for 2 groups of guinea pigs and 30 groups of rabbits with numbers depending on how large the groups are, which depends on the temperaments and needs of the individual animals living here at any given time. We have a variety of housing suitable for animals with varying degrees of mobility. All accommodation is spacious and exceeds the RWA guidelines significantly.
We take in those animals which are not suitable for rehoming to live as a pet due to age or special needs arising from behavioural issues such as agression or extreme nervousness, health or dental problems or having a long or difficult to manage coat. We do not normally take in young healthy confident friendly animals.