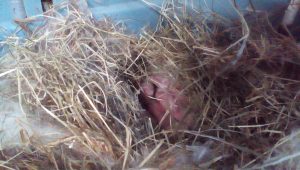 Strawberry had her litter on Tuesday morning, August 7th 2018. When I walked in she was working busily at cleaning them up and was smothered in blood. She had had them in the corner of the run on an uneven pile of bricks and tiles with very little bedding underneath them so l later lifted the whole nest into a tray and put it in the same corner.
Strawberry seemed to know what to do but she certainly got in a mess doing it! But there are a lot of them. Ten if I have counted correctly.
She took a break from cleaning them briefly enabling me to get a closer look and to count them:
But she soon got back to work but I wasn't the only one watching her:
Naming them all will be a challenge! I am currently thinking about calling them all Strawberry in different languages. Fraise, Çilek, Aardbei, Jordbaer, Moranga, Zaomei ….
For those that haven't been following the rescue of the New Zealand Whites from Bristol I need to point out that we don't usually have babies here. I think the last time was 2011 when Violet arrived pregnant and had two, one of whom, Fern, is still with us.
Red Currant and Strawberry were breeding does used for meat production:(( Obviously they had been put with a buck not long before their owner decided not to continue and these are the resulting litters. Although we could have done with there being fewer these babies are to be celebrated because they have been born with the freedom to live out their lives instead of having them cut short. They are going to cause us an awful lot of trouble and cost us a lot of time, money and effort but they are worth it because every life is valuable. I look forward to watching them grow up to become truely Happy Hoppers.