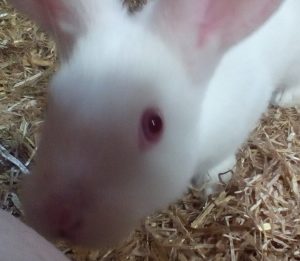 Cranberry was a New Zealand White buck who came to us in July 2018 as part of a group taken from a breeder who had been killing them for meat. We took 9 of the 38 who were lucky enough to get out alive after the breeders mother convinced him to give it up.
We think he, Wineberry and Tayberry are from the same litter and that Cherry is their mother as she still had milk when they all arrived. There are two slightly larger bucks in with them too.
Cranberry is possibly the friendliest and really likes being stroked. At the moment he has a slightly rough patch inside his ear which helps distinguish him from the others.