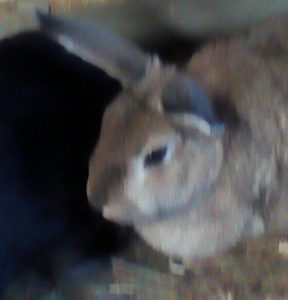 Tia is an agouti doe who came to us in March 2018 from a community farm which was closing down. She came with her sister Siyah who she lives with and another pair, Harp and Jess. We think Harp might be her mother and Jess her other sister as they are so similar.
She is a wonderfully lively active friendly rabbit who is particularly fond of digging and is always cheerful and enthusiastic. She seems to be determined to make the most of her time with us.
I tried at various times to bond she and her sister with a buck but they rejected all of them until Dandelion. That seemed to have gone smoothly but them Dandelion and Siyah had a huge fight and injured each other. As Tia gets on better with Dandelion than she did with Siyah I left the mixed pair together and removed Siyah partly because she had an eye injury that needed treatment inside.