Harry, despite her name, was a female guinea pig. She was a lovely dark ginger colour and was born in 2012. She came to us in February 2018 because her companion had died and her owner didn't want her to be alone. She was a bit quiet at first but got used to life in the village after a few weeks but really came into her own when the guinea pigs moved outside into the new sheds.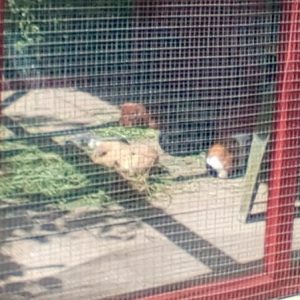 She loved being out in the run, especially when she could sunbathe, and set a good example for the more nervous of our piggies who had lived indoors for most of their lives. They are all happy with the run after following her lead. They are especially happy if we give them a nice heap of grass.
Harry had an infected mammary tumour from the time she arrived. The infection was only part of the story, that we were able to control, but when her problems spread to her womb and she began to bleed she did not respond to further treatment and sadly died in August 2018. She was only here for six months but I am convinced she really enjoyed her time with us. She will be fondly remembered.