Florence was a grey mini-rex doe who came to us in July 2011 after being seized by an animal welfare officer from an overcrowded situation.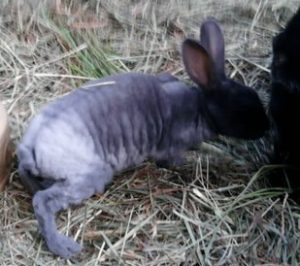 She was only half the size of the rest of her littermates and had wrinkled skin as her coat did not fit her properly, the runt of the litter. She arrived with her mother Sweet Cicely. They both lived with Dachs and Bambi until Sweet Cicely died of bloat in 2016.
Florence had no fur on her feet partially because she is a rex and partially becuase she over groomed them, close to self-mutilation, she also chewed off the fur on her belly and everywhere else she could reach, but thankfully she never broke the skin.
This meant that she kept developing abscesses on her feet and so needed regular antibiotic treatment and to live on a soft, dry surface. For this reason the group lived in our biggest shed which had doors that open wide, the next best thing to a run.  After losing Sweet Cicely the three remaining rexes were bonded to and then took care of our oldest resident Nutbrown. He had been here for more than eleven years and was blind and frail but Florence and the others were very sweet to him. They had the biggest shed and run and Florence's feet seemed to cope well with the soft surface in there.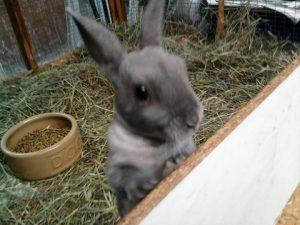 Florence was a strange looking little creature. I sometimes thought she looked more like a little kangaroo or wallaby rather than a rabbit. Her coat was amazingly soft and very sleek. She had a tiny little head never reaching anything like her mother's size. As she was such a runt I didn't really expect her to live as long as she did, but she didn't do too badly living to seven. At the end she went down hill very suddenly, getting bloat which didn't respond to treatment. Rexes seem to be very prone to it, her mother had died of it the previous year.