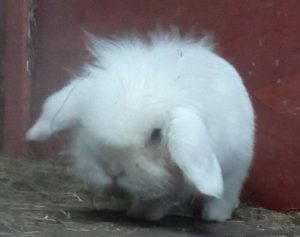 Tarragon is a little blue eyed white lionlop buck who looks just like his Dad, Thyme. He was born in 2017 and arrived accompanied by his family, part of an accidental litter from a pair sold to someone as being the same sex. He had a weepy eye when he arrived but his companions take care of that now. Often all a rabbit with eye problems needs is a companion to keep it clean for them. Both he and Thyme always have a hat of hay on their heads, stuck in their manes. They are really fluffy and need regular grooming. His coat is so dense it seems to buffer him from the world so he doesn't notice what is going on around him.
He lived with Firefly and Clary in one of our big enclosures until first Firefly and then Clary died. Now he lives with Meili and Piaoliang. He adores them but they are much livlier than he is and he sometimes struggles to keep up.
Unfortunately the beautiful sisters relationship broke down and Meili had to be removed from the group. As Tarragon seemed to get on better with Piaoliang she is the one I left him with.